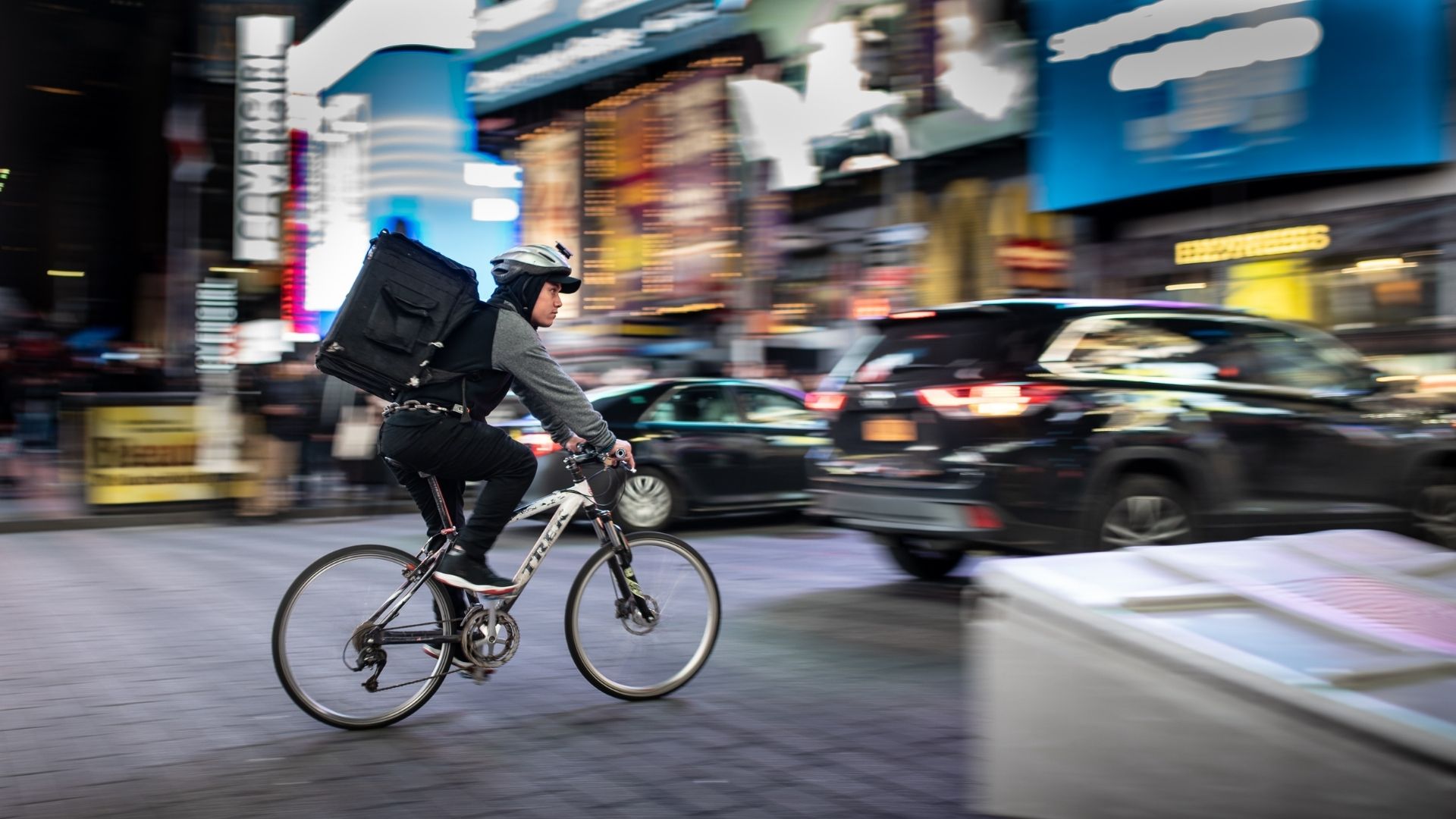 It's all about speed. The concept of Q-Commerce, in which the concept of E-Commerce, which has recently entered our lives rapidly and occupies a large place in digital transformation, has been taken to the next level, literally Quick Commerce. Quick Commerce is also known as "delivery on demand" and is the newer and faster form of E-Commerce. While leaving the concept of E-Commerce behind, Q-Commerce has taken it to a different level by combining it with innovations.
Quick Commerce was founded on the idea of ​​delivering quality products to its customers as quickly as possible with quality delivery. With less expense, it enables not only large companies but also SMEs to enter the E-Commerce market.
E-Commerce or Quick Commerce?
The point where Quick Commerce differs sharply from E-Commerce is the speed of delivery, as the name suggests. Delivery that takes days, maybe weeks in E-Commerce, is aimed to be reduced to hours or even minutes in Q-Commerce.
The shortened delivery time allowed many food services to participate in the E-Commerce model, as well as speeding up the delivery of small-quantity orders. Coffee orders are among the examples of Q-Commerce that can be used by small tradesmen such as "Shopping Center" stores and groceries carried out by large commercial stores.
Quick Commerce / Q-Commerce System
Besides the short delivery time, another feature that distinguishes Quick Commerce from other trading systems is the dark warehouses. Dark/Smart Warehouses, similar to the Dark Factory system we have described in this article, have also started to be used as a part of Q-Commerce. These dark Warehouse/Store systems may be areas that can store +1000 products in different locations, generally 300-700sqm in size.
The Quick Commerce system works with the principles of agility and flexibility to serve customers around the clock, together with new technologies and user experience studies. With the best price, the fastest delivery, and the highest quality products, the Quick Commerce system is based on competition.
How Quick Commerce Emerged?
Even Richard and Maurice McDonald's establishing McDonald's restaurant in 1940 and serving their meals to their customers with fast delivery can be said to be the building blocks of the Q-Commerce system. Quick Commerce has emerged not with the direct acceptance of a system, but with the combination and development of many systems.
E-Commerce plays the biggest role in the rapid emergence and adoption of Quick Commerce. The desire to take this business to the next level with increasing E-Commerce demands, renewed technologies, and newly tested systems is the beginning of Q-Commerce.
Quick Trade Examples
A Swedish foodservice business founded by Niklas Östberg in 2008 was renamed Delivery Hero in 2011. DH Group, which later started to serve in other countries and cities, is known for being one of the pioneers of Quick Commerce. Guaranteeing delivery in less than an hour, Delivery Hero also supports the environment by sending its couriers to deliveries, generally using bicycles.
Getir, which entered the Q-Commerce market quickly and opened to Europe from Turkey in a short time provides services in four different areas: Getirmarket, Getirfood, Getirwater, and GetirMore - the service you can use to do your weekly/monthly shopping. It delivers its orders to its customers within minutes with the quote "Bring a Happiness".
In addition to delivery within minutes, Getir offers live delivery tracking, digital payment, and 24/7 service. Getir, which has 400+ warehouses in Turkey, started to serve in Europe in 2021, as well as in the United Kingdom, Netherlands, Germany, and France.
Glovo App is a Q-Commerce initiative with approximately 3.8M users, serving in 21 countries and working with almost all major food chain companies. Located in Spain, this venture has raised $530m in investment with the Series F Tour, making it the company with the most investment in Spain so far.
Gorillas is a Quick Commerce company that set out with the campaign to deliver thousands of products in 10 minutes or less. Like Delivery Hero and Glovo, Gorillas, which carries out deliveries by bicycle transportation, is also a company against the use of plastic in general. It currently serves in 8 countries of Europe.
Another company that offers Quick Commerce services in Turkey is the Banabi application, a side foundation of Yemeksepeti. Currently serving in selected provinces of Turkey, Yemeksepeti Banabi is another company that provides service within minutes and offers the option of paying at the door for the first time in its field. To access the Banabi application, it is sufficient to download the Yemeksepeti application.
The Future of Q-Commerce
It would not be wrong to say that Quick Commerce is the trading style of the future - a few years later if this growth is recorded. It is obvious that the biggest bottleneck of the E-Commerce sector, which is supported and expanded by the pandemic period, is fast delivery. Accordingly, an increase in Quick Commerce support will be inevitable.
Looking at the examples above, it can be understood how bright the future of the Q-Commerce system is.
Delivery Hero reports 400% annual growth, which is roughly 40 times that of Apple.
Glovo, on the other hand, is Spain's most invested company.
In the Gorillas Series B Financing Round, it received 245M Euros and raised the company to the rank of Unicorn.
Considerations for Quick Commerce
1- Right Location, Right Choice
In order to deliver your product in the fastest way, you should choose the points where you can reach your product most comfortably.
The right location for this would be big and crowded cities with high demand. But the important aspect of big cities is transportation. Most Q-Commerce companies prefer bicycle transportation for both ecology and human health. In addition, the costs of bicycles are less than motor-couriers. However, attention should be paid to the possibility of this in big cities.
If you don't want to create your own courier team, you can also get help from third parties. For example, UberEats also helps with delivery services for supermarkets.
2- Preferring the Right Products
Quick Commerce companies generally include the products that the consumer needs every day or consume regularly in their delivery lists. Food, drink, cosmetics, pet supplies, or quick gifts are ideal choices for these lists.
3- Using the Right Software
Using real-time inventory management tools is an unavoidable necessity for fast trading business. Express distribution companies; The status of stocks, the time calculation of the deliveries, and the freshness of the products in stocks need a management system that needs to be calculated in detail.
---
Sharing is caring!
---